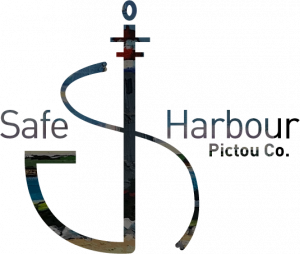 Pictou County Safe Harbour (PCSH) was founded in 2015 in response to the Syrian Refugee Crisis that was widely publicized in the fall of 2015 after the death of Alan Kurdi. PCSH was established as a community-based sponsorship group, joining Canada's long tradition of private refugee sponsorship by local citizens, beginning with the Vietnamese Boat People in the late 1970s. Canada's refugee sponsorship program relies on community groups and volunteers to welcome newcomers to their community, providing one year of financial and emotional supports for the family as they settle into their new lives. While non-religious as a separate entity, Safe Harbour established a close working partnership with Trinity United Church to submit a sponsorship application for one Syrian family. This family arrived in the winter of 2016.
Pictou County Safe Harbour has continued to actively sponsor, welcome and support additional newcomer families since that time with the help of a dedicated volunteer network. After welcoming five Syrian families in the fall of 2018, PCSH secured private funding to hire a Newcomer Services Coordinator to support the new families, the volunteers, and community partners in an effort to facilitate the settlement of newcomers and develop better infrastructure and partnerships for resettlement in rural communities.
This work includes looking at the concept of labour mobility for refugees, in line with Canada's work on complementary pathways to resettlement through the Economic Mobility Pathways Project. Pictou County Safe Harbour is a founding partner with Pictou County Regional Enterprise Network's pilot project on the economic immigration of skilled refugees matched to existing labour shortages in the area. This pilot is the collaboration of several partners including The Shapiro Foundation, Talent Beyond Boundaries, RefugePoint, Glen Haven Manor and other local employers experiencing labour shortages. PCSH and their volunteer network will provide connection and support for families arriving through this pilot. For more information on this exciting initiative, see the video below.
Safe Harbour currently works with 47 newcomer individuals in our community and a wide volunteer network. The sponsored families come from both Syria and the Democratic Republic of the Congo, with two additional families in the process of being sponsored. Pilot Project families will arrive from various countries in Africa and the Middle East. Most of Safe Harbour's success is due to the efforts and goodwill of dozens of dedicated volunteers and community members.